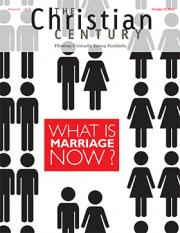 Amid endless debates concerning same-sex relationships and same-sex marriage, one biblical passage is often curiously absent. In 1 Corinthians 7, Paul reflects on the merits of married and single life. If unmarried persons struggle with sexual self-control, he says, they should marry, "for it is better to marry than to be aflame with passion."
The King James Version translates Paul's sentiment more bluntly: "It is better to marry than to burn."
Wide embarrassment on all sides no doubt accounts for neglect of this passage—but also makes it an unexpected resource. If no side owns it, the passage may offer a rare place to meet for fresh discernment. If no one likes the passage, its very neglect might offer an unexpected way out of our impasse.
That impasse is one I have lived. As a Catholic moral theologian I've struggled for more than two decades with the pain of those with same-sex attractions and relationships who face rejection from families and churches that claim to offer the deepest love. To experience such a gap is to sense a betrayal—a pain that, by cutting into one's very identity, may wound more than do bullying and violence.
Yet the pain of others is quite real too. Unjustly dismissed as homophobic, some are simply reeling from the sexualization of culture and the corrosion of stable family relationships. They may unfairly grab on to homosexuality as the ultimate sign of a breaching of those cultural assumptions and of a natural order upon which they've built their lives. But they have legitimate concerns and valid questions.
I also write as the husband of a Mennonite pastor of a welcoming congregation who is prepared to officiate same-sex weddings. My wife and I have taken our churches' pain, struggles, and arguments deep into our marriage over the years. Because she's a pastor who is sensitive to local needs, she focuses on different points than I do as an ethicist seeking to reconcile an array of positions and concerns.
However improbably, I have found Paul's approach in 1 Corinthians 7 offers a path out of our impasse and toward broader churchwide consensus concerning marriage. Extending the blessings of marriage to same-sex couples by recognizing their lifelong unions fully as marriage could allow the church to speak all the more clearly to what deeply and rightly concerns those who seek to uphold the sanctity of marriage. But the opportunity opened here is also a responsibility—to renew Christian teaching concerning why God's intention is that full sexual intimacy belong solely to marriage. …
Copyright © 2014 by the Christian Century. "What is Marriage Now? A Pauline Case for Same-Sex Marriage" by Gerald W. Schlabach is excerpted by permission from the October 29, 2014 issue of the Christian Century. To continue reading the article, click here.