Commonweal
16 June 2017, pp. 9-14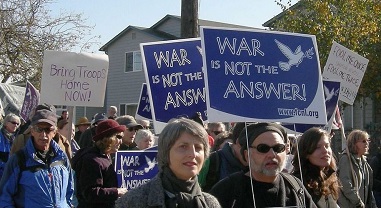 A question for sports fans: What would you make of a coach who drills his team exclusively on last-minute desperation plays, while neglecting the basics? What would you make of players whose whole mindset was geared toward spectacular buzzer-beaters, but couldn't play sound defense? In much the same manner, a church whose members never train themselves in nonviolent social strategies for resisting injustice or protecting the vulnerable—while their leaders spend centuries focused mainly on "exceptional" last-resort situations of the kind envisioned in just-war doctrine—is way off its game. Or in the wrong game altogether.
A year ago I participated in the Nonviolence and Just Peace Conference, an historic event organized by Pax Christi International and co-sponsored by the Vatican's Pontifical Council for Justice and Peace in Rome. At its close, the conference issued an appeal to the Catholic Church, urging that it "re-commit to the centrality of Gospel nonviolence." The document reflected the consensus of eighty-some attendees from more than thirty countries—lay people, theologians, religious, and priests, including six bishops—that the church must abandon its reliance on "just-war" theory. By dedicating his 2017 World Day of Peace message to the theme, "Nonviolence: A Style of Politics for Peace," Pope Francis has signaled that church leadership is listening.
What is so wrong with the just-war theory? The answer lies in the way it overlooks and even undermines alternative approaches….
To read the full article, click here.
To read Peter Steinfels' parallel article, click here.
To read letters to editor and author responses, click here.